History of Kinsalebeg
On a journey around Kinsalebeg some years ago my American travelling companion inquired about the age of Kinsalebeg Church. It should have been a fairly straightforward question for a native of the parish, and indeed here was a church which I passed on a daily basis in my youth. However I was unable to provide an answer to the question and indeed was not even able to pinpoint the century in which the original church was built.  On my return journey to Dublin I went on an imaginary trip around Kinsalebeg to test my knowledge of the history of the area.  I came to the sobering conclusion that I knew little or nothing about the history of the parish and determined to make an attempt to remedy the situation by reading up on the subject. Visits to local and national libraries, coupled with discussions with a few historians, quickly established that there was no detailed history of the area particularly before the 1st World War. Local history concerning Kinsalebeg was generally enveloped in broader histories of Waterford, Cork, Youghal, Dungarvan or the Blackwater River.  These are useful sources of information but, by their nature, tend not to go into any great detail with respect to topics that may be of specific interest to Kinsalebeg parishioners or local historians. Proximity to a particular town or area does not ensure a similarity of historical experiences. The history of Kinsalebeg, for example, is very much different to that of the adjacent town of Youghal, which lies just across the bay.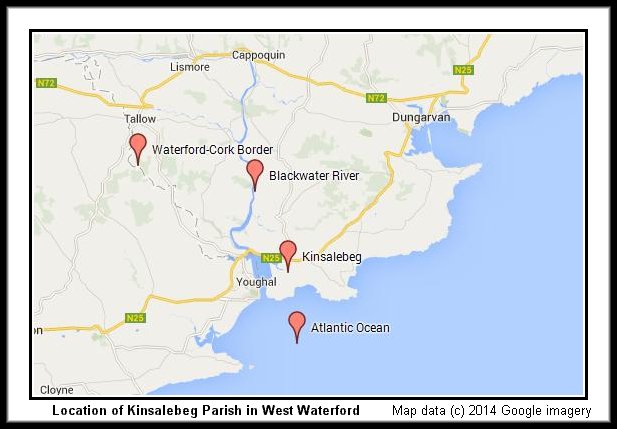 I decided to at least start the process of pulling together historical references to Kinsalebeg. After some preliminary research into Kinsalebeg Church it was quickly established that any form of parish history was going to be a painfully slow journey as information was scarce, difficult to locate and in many cases difficult to authenticate. There are many conflicting and contradictary historical references to specific incidents in history and it was important that another historical review should not add to the confusion. This particular history mainly covers the period up to World War I and Ireland was under British rule for most of this period. Consequently much of the official material regarding Ireland was coming from a specific British viewpoint which quite often depicted Ireland as at best a "troublesome child". Other sources of information were the biographies, papers, letters and diaries of individuals and families such as Richard Boyle, William Penn, Cromwell, Castlehaven, Walter Raleigh, Desmonds, Ormonds, FitzGeralds and Edmund Spenser. Commentary and opinion in these documents were often coming from a specific political and religious viewpoint and needed to be treated with caution. There were many hidden obstacles which made research quite slow particularly in the early period. An example of the type of difficulty encountered was the variation in place names and townlands over the centuries. The townland of Pilltown was variously referred to historically as Piltown, Pilltown, Piltowne, Pilltowne, Balemepoll, Balnepull, Ballynefaylle, Ballinefoile, Baile an Phoill, Baile an Poill etc and other townlands and placenames had similar multiple identities over the centuries.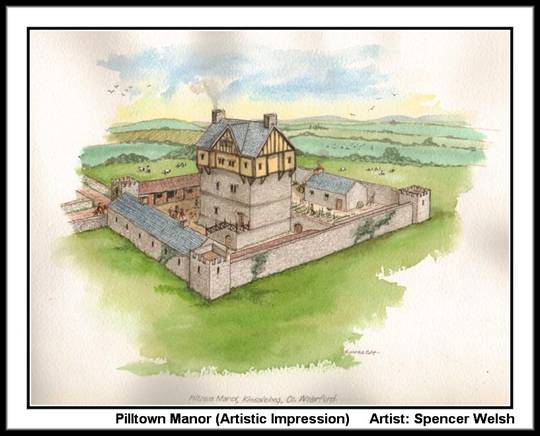 The original intention of this historical project was to produce a book on the History of Kinsalebeg and this is still the longer term plan. However we have now reached a point where it seems practical to initially release an online version of the history on a phased basis as various topics are completed. This will facilitate feedback from readers with additional suggestions, ideas, topics, photographs and corrections and will allow editing of the final documents before producing a more complete online and/or printed final history. The availability of an online version of the history has facilitated the inclusion of a lot more information than would be possible in book form. In particular is has enabled the inclusion of original material in the form of wills, deeds, book excerpts, diary entries, depositions, newspaper reports etc which might not be possible in book form due to the sheer volume of data. The present format of the history is a series of chapters or articles on specific families, individuals, locations, buildings or events. These are generally stand alone chapters and can be read individually without necessity of having read other chapters. The format means that there is an aspect of overlap or duplication of information between different chapters, particularly in areas such as families and land ownership.
The following are some of the main topics for this first version of the History of Kinsalebeg:
Stoker Lynch
Fishers of Pilltown Mills
Population Changes
Ferrypoint
Placenames & Old Names
Navy Men of Kinsalebeg
Kinsalebeg Church
The Great Famine
Walshs of Pilltown (Part 1 Sir Nicholas Walsh Snr)
Walshs of Pilltown (Part 2 Fighting Walshs of Pilltown)
Dowdalls of Pilltown Manor
Piaras Mac Gearailt (Poet)
Landlords & Land Ownership
Houses of Kinsalebeg
Rochs of Woodbine Hill
Catholic Church & Schools
War of Independence
Ronaynes of D'Loughtane
Miscellaneous topics such as holy wells, mythology, fairs & markets, ships etc
Most of the above topics are close to completion and it is planned to release these online on a phased basis throughout the first half of 2014. It is hoped that the History of Kinsalebeg website will become an ongoing updated live history website into the future. In order to achieve this we welcome comments and contributions from anyone with an interest in the history of Kinsalebeg.
Researching this history has been a fascinating journey through the centuries from the arrival of the Déise tribe in the 4th century. It shows the extraordinary depth of hidden and forgotten history in a relatively small rural parish such as Kinsalebeg. It is the history of a proud parish which has battled its way through extraordinary difficulties over the centuries including wars, invasions, Black Death, land confiscations, religious persecution, famine, emigration, penal laws and rebellions. We delve into the history of a number of families, including the Walshs, Fishers, Smyths, Bernards, Rochs, Ronaynes, Dowdalls, Villiers-Stuarts, FitzGeralds, De Badlesmeres, Desmonds and Powers, who had an input into life in Kinsalebeg down through the centuries. We also look at the history of specific buildings including Pilltown Castle, Prospect Hall, Monatray House, Woodbine Hill, Kinsalebeg Church, D'Loughtane House and Pilltown Manor. We look at specific events such as the Great Famine, the Black Death, the Rebellion of 1641, the razing of Pilltown Castle, the Pilltown Ambush and the siege of Youghal. We also look at the naval heritage of Kinsalebeg including the life of naval hero Stoker Lynch and the many Kinsalebeg men who fought at the Battle of Jutland during World War 1. We also take a look at the landlords and the major land ownerships that have controlled Kinsalebeg land from the time of the Decies. The fighting spirit of Kinsalebeg is apparent throughout this history from the time of the the Déise attack on the Vikings at Youghal to the bravery of naval hero Stoker Lynch. This fighting spirit is probably best epitomised by the Walsh family of Pilltown (1540-1725) who, despite enormous odds, fought their way through numerous conflicts, land confiscations, occupations and insurrections over a couple of centuries.  Their fighting spirit and refusal to be intimidated earned them the title of "The Fighting Walshs of Pilltown". If we were trying to find a song that possibly best exemplified the spirit of Kinsalabeg down the centuries then "I Wont Back Down" by Tom Petty, and later covered by Johnny Cash, springs to mind as a suitable song. The following are a couple of verses from the song:
"I Wont Back Down" by Tom Petty
Well I won't back down, no I won't back down
You can stand me up at the gates of Hell
But I won't back down

No I'll stand my ground, won't be turned around
And I'll keep this world from draggin' me down
Gonna stand my ground and I won't back down

Chorus:
Hey baby, there ain't no easy way out
Hey I will stand my ground
And I won't back down

Well I know what's right, I got just one life
In a world that keeps on pushin' me around
But I'll stand my ground and I won't back down

Chorus:
Hey baby, there ain't no easy way out
Hey I will stand my ground
And I won't back down
No, I wont back down
Johnny Cash cover version: http://www.youtube.com/watch?v=ZMycFu4esas&feature=kp
Tom Petty version: http://www.youtube.com/watch?v=nvlTJrNJ5lA
Kinsalebeg is located on the south western corner of Waterford in one of the most beautiful parts of the country. To the south it is bounded by the wild and wonderful Atlantic Ocean which powers into the many inlets and bays off the Kinsalebeg coast including Youghal Bay, Ferrypoint, Mangan's Cove, Caliso Bay, Carty's Cove and Whiting Bay. This part of the Atlantic coastline has been the graveyard for hundreds of ships caught up in violent storms off this very exposed part of the coast. To the west of Kinsalebeg lies Youghal Bay, the town of Youghal and the beautiful Blackwater River which meets the Atlantic Ocean at Ferrypoint having completed the Waterford leg of the journey from Cappoquin. The Blackwater River, which forms part of the western boundary of Kinsalebeg, is undoubtedly one of the beautiful rivers of Europe. It was described as follows by Henry Inglis on his tour of Ireland in 1834:
"We have had descents of the Danube, and descents of the Rhine, and the Rhone, and of many other rivers; but we have not in print, as far as I know, any descent of the Blackwater; and yet, with all these descents of foreign rivers in my recollection, I think the descent of the Blackwater not surpassed by any of them. A detail of all that is seen in gliding down the Blackwater from Cappoquin to Youghal would fill a long chapter. There is every combination that can be produced by the elements that enter into the picturesque and the beautiful—deep shades, bold rocks, verdant slopes, with the triumphs of art superadded, and made visible in magnificent houses and beautiful villas with their decorated lawns and pleasure grounds.'' Source: A Journey Throughout Ireland, During the Spring, Summer and Autumn of 1834: Henry David Inglis.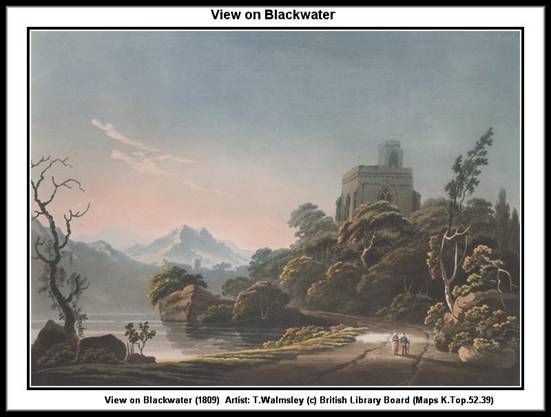 This western boundary also unfortunately brought Kinsalebeg into conflict with many anti-Irish or anti-Catholic individuals and families who resided on the fertile banks of the Blackwater from Youghal to Lismore over the centuries. Their presence was usually as a result of plantation and land confiscations. Our "noisy neighbours" over the years have included the Boyles of Lismore & Youghal led by the notorious Broghill, Walter Raleigh, Dowdalls, Smyths, Stuarts, Bernards and a number of anti-Catholic council administrations in the nearby town of Youghal.
To the north Kinsalebeg is bounded by our good neighbours in the parish of Clashmore with the Drum Hills and the Comeragh Mountains in the distance. Clashmore and Kinsalabeg parishes have generally had a good relationship down the centuries. There have been periodic incursions of Clashmore residents into Kinsalebeg in their desperate attempts to capture some of our best women and footballers, presumably due to a perceived shortage of talent in their own jurisdiction. The parishes are presently joined up in the form of a combined Clashmore Kinsalebeg GAA Club, to provide a formidable outlet for the Gaelic games of football and hurling. However, it should be said, that Kinsalebeg had a Gaelic football a few decades before Clashmore, and indeed had won a couple of senior county football championships from 1885 onwards, while they were still struggling with marbles in Clashmore! Kinsalebeg is the oldest GAA clubs in this part of West Waterford and East Cork and played in the first ever senior football championship final in Waterford in 1885, losing to Ballysaggart. They competed in four senior football finals between 1885 and 1891, winning two and losing two.
The parish of Ardmore-Grange provides the boundary to the east of Kinsalebeg and again we have been blessed with generally good neighbours in that direction. Christianity came early to Ardmore with the arrival of St Declan, who established a monastery in Ardmore long before the arrival of St Patrick in Ireland. We were quite happy with our pagan way of life in Kinsalebeg and were initially very antagonistic towards the zealous pilgrims from Ardmore. The wearing of an unusual form of dress, the waving of croziers and the reciting of unintelligble Latin psalms did not endear them to our parishioners. When they knocked on the doors of our huts in Kinsalebeg we were initially very hostile and indeed ran them out of the parish on numerous occasions. We later bought into the whole area of Christianity and in particular the concept of a single wife. We were finding it increasingly expensive ro run a household with multiple wives whilst at the same time trying to keep a boat moored at Ferrypoint and a couple of horses in training!
I would appreciate feedback from readers and any additional or corrected information will be gratefully accepted either by Email (email: kinsalebeghistory[AT]gmail.com) or Twitter (@kinsalebeghist) or by the other comment and blog facilities on the website. In order to access the historical information website users will initially have to log onto the system using their email address as the username. This is primarily because the website is very much a "work in progress" and we need a facility to be able to inform readers when new histories are added to the website or when significant changes have been made to the website content. I would like to apologise in advance for any incompleteness of the historical information and for errors or omissions in the content. This is not a complete history of the parish of Kinsalebeg but hopefully it will become so over the years.
I would like to extend my gratitude to all the individuals and institutions which were of great assistance to me in compiling this history. I am especially grateful to Spencer & Jill Eveleigh Welsh for their tremendous assistance in the Walsh/Welsh/Roch histories and also for Spencer's beautiful artistic impressions of long departed structures such as Pilltown Castle and Pilltown Manor. I would like to thank Fisher descendants William Hudson and Joseph Fisher for their input into the Fisher family history. I would also like to thank historians Julian Walton, Willie Fraher and Kieran Groeger for their advice and assistance and to Pat & Geoff Robinson for their input on Fisher genealogy. Thanks also to Mary Roch-Perks for her input and photographs on Roch history, to Mary Dee for information on recent Catholic Church clergy and to Cora Smiddy for Ronayne family information. Thanks to John Tierney (Eachtra) for providing details of archaeological excavations in the Kinsalebeg area. My thanks also to the extended Dunne and Browne families for their support and to the local Kinsalebeg people with an interest in history including Eileen O'Callaghan, Willie Roche and Bobby Connery. The number of institutions, libraries and individuals visited in compiling this history are too many to mention but I would particularly wish to thank the staff of the National Archives, National Library of Ireland, Manuscripts Department of Trinity College Library, National Museum of Ireland, Registry of Deeds, Dublin Friends Historical Library, Waterford County Museum, Ulster Folk and Transport Museum, UK National Archives, British Library, Imperial War Museum and the Irish Manuscripts Commission. We acknowledge and appreciate the availability of Google & Wikipedia images with Creative Commons) licenses for access to some of the images on this website (http://creativecommons.org).
I would like to thank Kevin Maguiness & Greg Lehane for development of the functional aspects of the website and Ciara McKernan for her stunning photographs of the Kinsalebeg area. Finally I would like to thank the members of my own family for their help with editing the historical information and for their input into the website development. Their assistance, patience and encouragement was invaluable during this long project and so my thanks to Ans, Greg, Bart, Sam, Claire, Jean, Kate, Tom and Rory.
Don Lehane © 2014